Our recent Ask A Vet chat with Dr. Michael Lucroy was a big hit with Tripawds members! The discussion was informative and continues with this chat transcript topic in the forums.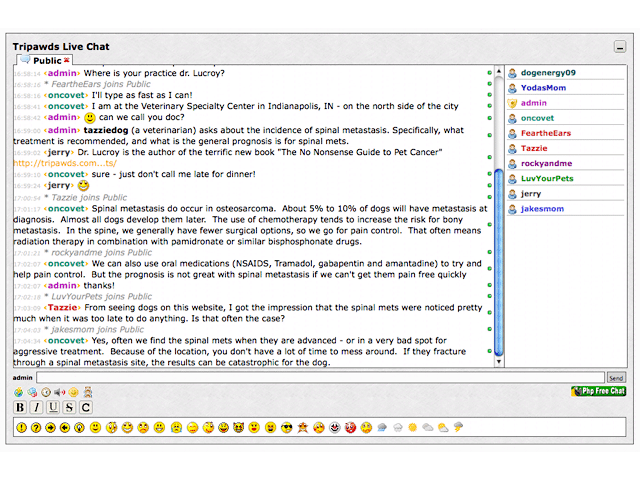 Many thanks to Dr. Lucroy for providing some insightful answers and interesting ideas about the diagnosis and available treatments for canine cancer. Especially interesting to note was his discussion of NSAID use prior to amputation for cancer dogs…
‹oncovet› Starting on NSAIDs (Rimadyl, Deramaxx, Previcox, etc.) will make dogs with arthritis and early bone cancer more comfortable.  If bone cancer is there, using NSAIDs first simply delays diagnosis.
He also had some excellent advice for those dealing with possible spinal metastasis in their pups…
‹oncovet› Spinal metastasis do occur in osteosarcoma.  About 5% to 10% of dogs will have metastasis at diagnosis.  Almost all dogs develop them later.  The use of chemotherapy tends to increase the risk for bony metastasis.  In the spine, we generally have fewer surgical options, so we go for pain control.  That often means radiation therapy in combination with pamidronate or similar bisphosphonate drugs.
Other issues addressed included the use of Artemisinin and Metronomic therapy for fighting cancer and treatment options for subcutaneous metastasis, or subq mets. More information can be found in the transcript and Dr. Lucroy's new book, The No Nonsense Guide to Cancer in Pets, or his veterinary oncology blog.
Stay tuned for the next live chat, or drop by to see if anyone is online now. You can usually find my pack hanging around the chat room most evenings but we can't always be there, so schedule your own anytime!