Can anyone guess what the most common fear among Tripawd pawrents is?
Most pawrents fear that their Tripawd will lose the use of another limb.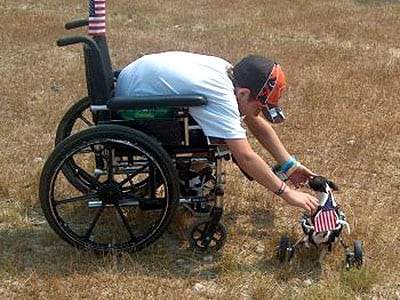 What if a rear-leg amputee grows old, and hip displaysia takes it's toll? Or a front-leg Tripawd takes a bad fall and severely injures the remaining leg?
What would you do if your Tripawd lost the use of another leg?

As much as it hurts to think about it, it never hurts to be prepared, just in case.
That's why we talked to the good people at Doggon Wheels in Bozeman, Montana.
Since 1994, Doggon Wheels has been one of the world's top creators of mobility aids like wheelchairs, for physically challenged animals.
We asked Doggon co-founder Lori, a few questions about how Tripawds can benefit from wheelchairs, and here's what she had to say:
Can wheelchairs work with Tripawd dogs?
"Yes- we do make wheelchairs for amputees. They are most commonly used by older amputee's who are starting to have difficulties compensating for the missing limb (front or rear), or for pets with birth defects. We also make wheelchairs for pets with double amputations.

Generally they do really well with using wheels and appreciate being able to go for longer walks or on more varied/difficult terrain."
The biggest fear some Tripawd pawrents have is for their dog to lose function of their remaining rear or front leg. We know of one Tripawd who needs a hip replacement, yet he is also a rear-leg amputee. Would a wheelchair help?
"This is legitimate concern and why we recommend that you take into consideration putting the remaining rear leg up in the stirrup during periods of intense exercise. Generally the dogs using amputee wheelchairs are doing so because the other limb is overly stressed or arthritic. Putting the remaining limb into a suspended position allows it to rest during the most stressful periods of exercise.
Owners who do this find that their dogs are able to get around easier on their own the rest of the time, when not in wheels. A wheelchair for the pet above would be useful for both long term use to avoid stressing the remaining limb post surgery, or if the humans opt not have his hip replaced."
How do you measure a Tripawd for a wheelchair?
The measurements are the same for all of our chairs, except for a Tripawd we need to know:

Is s/he a left or right amputee?
Does the dog have any part of her leg remaining? Is the amputation site partial or flush? Most amputations are flush, however if there is enough leg remaining that you can measure the circumference around it, a different support might be needed, other than our amputee support.
To see how mobile a dog really is when using a wheelchair, check out this beautiful movie of Popeye, a dog currently available for adoption through Walkin' the Bark Rescue in Northern California:
Learn more about wheelchairs for your three legged Tripawd dog at the Doggon Wheels website.